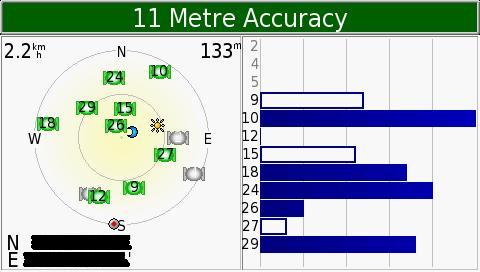 Top green bar of screen shows the current accuracy the
Nuvi
. It is now reporting an accuracy to within 11M.
- Bars on the right corner of screen is the respective satellite vehicle numbers and their signal strength.
* Hollow bar indicate that your GPS starts to receive data from a respective satellite vehicle.
* Solid bar indicates that the "ephemeris" data can be used to give a "pseudorange" to calculate a position
- The left corner of screen shows the constellation of satellite's that your
nuvi
is seeing in the sky.
- Solid green icons with numbers are the satellites that the
nuvi
is locked onto
-
Solid
gray
icons are the satellites that the
nuvi
can see but can't lock on to
- Flashing icons ( grey/green ) are ones that the
nuvi
is attempting to lock on to
- Gray / Green cons shown represents the satellite vehicle position in the sky with respect to your present location
- Small round icon with the red center is the direction of your vehicle facing / travelling
- Sun (yellow star burst ) icon is the position of the sun with respect to your present location
- Moon ( blue crescent ) icon is the position of the moon with respect to your present location
- The outer ring represents the horizon, while the inner ring represents an overhead view of the sky at 45 degrees from the vertical
- Numbers in the top left of satellite constellation box is your current speed (0.0 if your stationary)
- Numbers in the top right of satellite constellation box is your current elevation
- Numbers in the bottom left are your current location (Latitude and Longitude)
Source : MyAsean Freemaps
Credits to Author : Silverbeuty